iPhone screen repair
Repair duration
30 minutes
The specialists of ThePhoneLab will make sure that your iPhone screen repair will be executed fast and professionally.  They understand, better than anyone, that you want to use your iPhone again as soon as possible. That's why our specialists will make sure that your iPhone screen repair is done within 30 minutes. And, no cure? no pay! The costs for a new iPhone screen start at €70.
Check the price of your repair here
When do I need an iPhone screen repair?
Are you still in doubt on wether your iPhone screen needs to be replaced? Read the points below and check if this is the case with your iPhone. If so you are probably in need of a screen repair, or pass by one of our stores and have our specialists take a look at your phone.
The glass of your screen is cracked
There are vertically colored stripes in your screen
There are black spots on the screen
The display is not reacting to you touching it
Your screen no longer lights up while your iPhone is turned on
Do you recognize any or all of the points mentioned above? And you have come to the conlusion that your are in need of an iPhone screen repair? Make an appointment through or website or pass by one of our stores, please keep in mind that you might have to wait if you do not have an appointment.
iPhone screen repair at ThePhoneLab
Why you would choose to have your screen replaced at ThePhoneLab? Our specialists always and only use original Apple parts for every repair. That's why you are guaranteed of good quality. Because of the original Apple parts we can offer a 3 month warranty after replacing the screen. In addition, at ThePhoneLab you benefit from a quick repair. We can execute the iPhone screen repair within 30 minutes. You can find the price for this repair on the page of your specific model.
Besides that in our store you will never be faced with surprises, as we work transparently and always communicate with our clients. So visit us in one of our stores in Amsterdam, Haarlem or Utrecht or make an appointment through our website. But if you don't have time, you can always make use of our Pick-up & Delivery service or our Mail-in Repair service. We will pass by your house or work place to pick up your phone, replace the screen en bring it back to you! This way you do not even have to leave your house for an iPhone screen repair.
Plan your iPhone screen repair
You can count on ThePhoneLab for the best priced repairs. Want to plan a repair? Select your device to get started!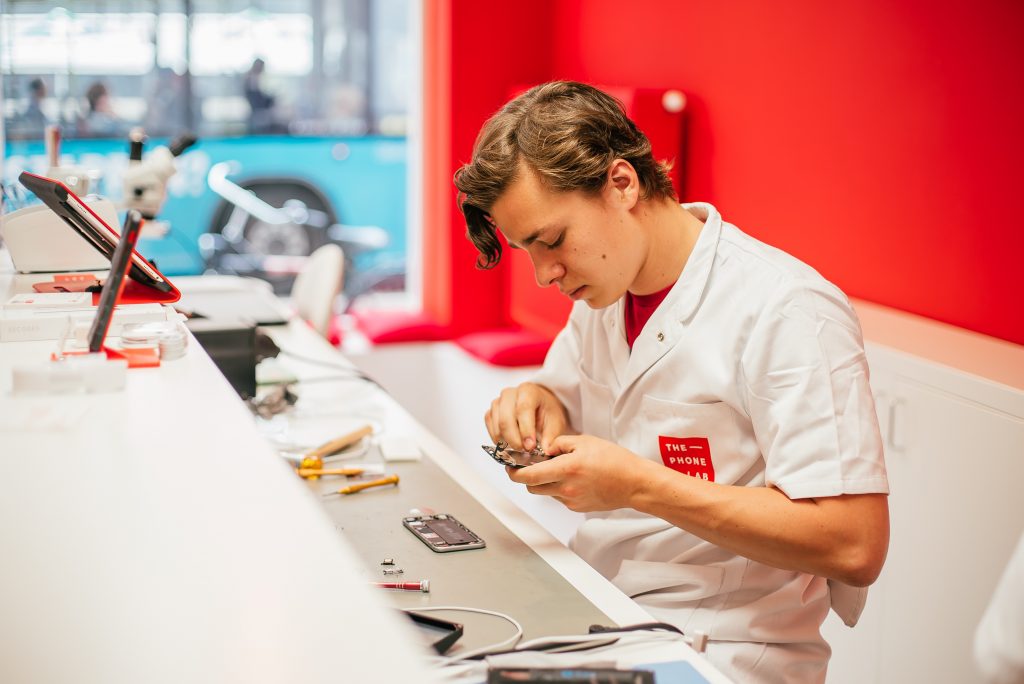 ThePhoneLab for all your smartphone and tablet repairs
We don't like repair services where you have to wait forever for your phone to be repaired, and then be presented a huge bill. Most of our repairs we execute within 30 minutes! Also all our prices are available online, therefore you will not be faced with any surprises in our stores. You can contact ThePhoneLab for repairs including Apple, Samsung, OnePlus, LG, Huawei and Sony. We hope to see you soon in one of our stores in Amsterdam, Haarlem or Utrecht.