iPhone 12 Pro Max
Clearplex Screen Protector
Repair duration
10 minutes
Note: Would you like to have a Clearplex screen protector installed? Drop by one of our stores! There is no need to make an appointment for this. Our specialists will be happy to help you immediately.
At ThePhoneLab you can have your screen properly protected with a ClearPlex screen protector: the very best among screen protectors. This piece of technology is tailor-made for your smartphone or tablet and ensures that your device is always well protected. Our specialists place the ClearPlex for you so that you can walk outside with a perfectly protected device! Your iPhone 12 Pro Max is in good hands with us. Promise!
Advantages of Clearplex compared to a glass screen protector:
1Perfectly fitting protection for every type of smartphone or tablet.
2Unprecedented drop and scratch protection.
3Self-healing properties ensure that scratches disappear like snow in the sun.
4The very thin foil is much less noticeable when using your device compared to a glass screen protector.
5You will receive a two-week adhesive guarantee on your Clearplex.
Frequently asked questions about the iPhone 12 Pro Max ClearPlex screenprotector
Why should I choose a Clearplex screenprotector over a normal one?


A Clearplex screen protector not only protects against scratches but also absorbs the impact of a fall like no other product can. Watch a demonstration from specialist Job in the video below:

What kind of technology is Clearplex?

Stop by one of our stores to protect your iPhone 12 Pro Max.
Click on the map for more information about your store.
Striving for the perfect customer experience.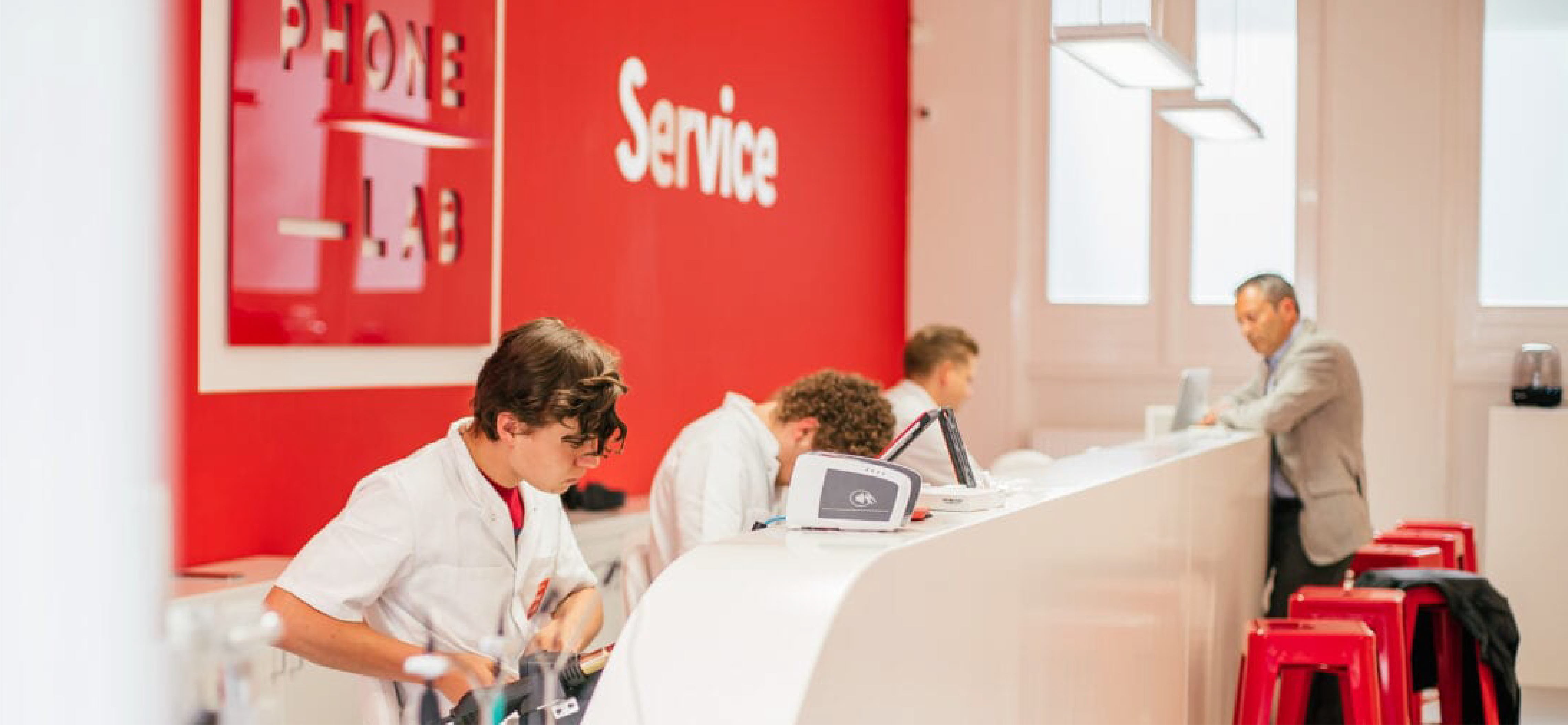 1. Drop by with your iPhone 12 Pro Max or make an appointment online
Good to know: customers with an appointment have priority over customers without an appointment.
2. Hand in your iPhone 12 Pro Max at the counter for a camera repair.
Your iPhone 12 Pro Max is in good hands with us
3. Grab a cup of coffee or tea and wait until your iPhone 12 Pro Max is fixed.
Take a seat, unfold your laptop or take a walk around the neighborhood! Curious about how we make and install the Clearplex? You can always watch the specialist.
4. Within 10 minutes your iPhone 12 Pro Max will be perfectly protected!
Our repairmen ensure that you will walk out with a smile. Promised!